Sea & Sea YS-D3 Mark II Strobe
The Sea & Sea YS-D3 is one of the world's best strobes for underwater photography. It offers lots of great improvements from it predecessor, the YS-D2J, including quicker recycling times, a more even beam, a redesigned back display, and a more powerful targeting light. The YS-D3's circuitry has been improved and the strobe is capable of a powerful, professional guide number of 33 (land). At guide number 22, the YS-D3's recycling time is a mere 0.6 seconds and at guide number 16, there is virtually no recycle time! This kind of capability is very beneficial to underwater photographers that need to shoot quick subjects with burst modes on their camera.
Features:
Maximum Guide Number 33 (on land)
Newly developed aspherical troidal lens on the flash tubes provides even light dispersion, no hotspots are produced
Native beam angle of 105 X 80 degrees with no diffuser
Wide beam angle of 120° (with included diffuser) or can even wider (150°) with the optional diffuser
Battery life: 220 flashes with Ni-MH batteries (4X AA)
Recycle time: 1.7 seconds at full power, 0.6 seconds at GN 22, no recycle time below GN 16!
Color temperature: 5800L. 5500K with a diffuser
Large capacity condensers
Firing the strobes at Guide Number 16 the strobe can continuously fire without any interval time
Two-stage signal - Visual and Audible notification that the strobe is ready to fire
Has a pre flash cancel mode
Improved power of target light which can be used as a dive light also. It is also adjustable in 2 steps
Auto power off when the strobe is left turned on for a long time
Over pressure relieve valve
Dimensions: 3.6 X 4.4 X 5.8 inches
Weight: 610g/21.5 oz (above water), -20g/0.7 oz (underwater)
Optional Accessories for the Sea & Sea YS-D3
1. Sea & Sea YS-D3 Snoot - the YS-D3 snoot will allow you to produce dramatic lighting and capture beautiful black backgrounds easily with your YS-D3. It has a prism built in so that the target light of the strobe will easily illuminate the subject.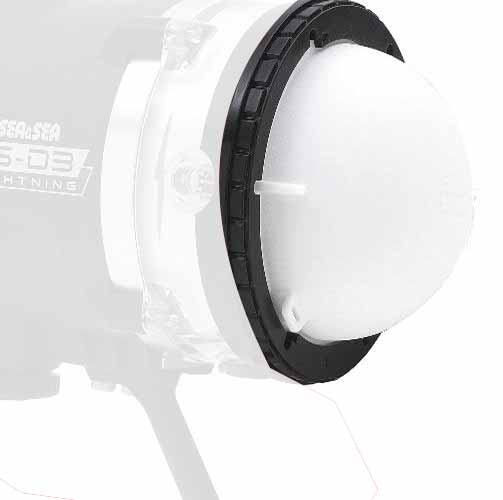 Sea & Sea YS-D3 Dome Diffuser
the dome diffuser for the YS-D3 produces a nice, even, 150 degree beam. This is great for wide angle photography, especially with a fisheye lens.